The future of solar energy, from battery-free solar to solar cars and ultimately the delivery of solar energy to the planet, is bright.
The future of this renewable energy source is bright and will only get brighter. One of the next steps towards environmental progress is the integration of photovoltaic solar systems into our homes, workplaces and streets.
Technological innovation has revolutionised the way the world views electricity. We are now able to generate our own electricity and control how we use it.
This is thanks to the development of solar energy and the increase in solar panels. The technology is now so advanced that we can now create integrated photovoltaics. The demand for integrated PV buildings is expected to grow significantly in the coming years.
What is BIPV (Building Integrated Photovoltaics)?
Building Integrated Photovoltaics (BIPV) is a term used for building material systems and design strategies to create buildings that use photovoltaic cells to generate clean and renewable energy.
These cells are located on the building surface (solar panels), in structural elements (roofs) or embedded in the building structure (e.g. windows).
BIPV is increasingly being recognised as a viable way to optimise the energy efficiency and sustainability of buildings. In order to realise the benefits of BIPV, both the design and construction of the building must be considered.
Solar cells are evident in the distributed energy architecture pictured below and can be seen on surfaces and structures such as roofs, walls and awnings. These are all a form of building integrated PV.
Types of BIPV options
There are several BIPV technologies available for building applications. Due to its natural insulating properties, BIPV can reduce the amount of energy required to operate a building.
These technologies can be used in many different ways for building applications. The four most common ways in which BIPV is used in build applications are
(1)External walls

(2)Windows and overhead glazing

(3)Roofs

(4)Sunshades
01. Photovoltaic facades
Photovoltaic facades are solar panels that are attached to the surface (or face) of a building. They are a building-integrated photovoltaic technology that can be used as a sustainable solution for a variety of projects.
Photovoltaic facades
They are similar to those used on the roof of a building and can be used in a variety of different commercial buildings, including offices, residential buildings, hotels or any other building.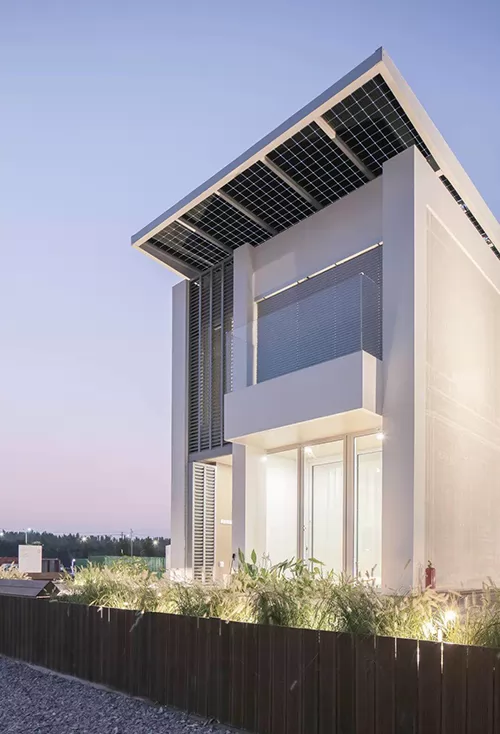 In the picture above, you can clearly see how solar facades are used. They are installed on the surfaces of buildings where the sun shines the most.
02. Windows and overhead glazing
In offices and commercial buildings you may have seen large windows and overhead glazing. These are used to let in light throughout the building.
However, these surfaces can also be used to install solar panels that look almost like glass, while converting sunlight into electricity.
03. Roofing
Integrating solar panels into the roof is one of the most cost effective ways to add solar energy to a building.
However, it is important to ensure that your roof is strong enough to support the weight of the additional material and that the solar panels are installed correctly.
Depending on the type of roof, solar panels can be installed in a number of ways. It can be a flat, sloping or atrium type. In addition to this, you can also use triangular and hexagonal solar tiles.
04. Sun shades
Solar cells are becoming increasingly popular as a way of reducing the cost of electricity, but they are also commonly used in many different areas. The use of solar cells in the shade of buildings is one such area.
Smaller sized solar panels can be fixed above windows or in shaded areas such as parking spaces. In this way, they can help you generate a lot of electricity on sunny days.
Advantages of BIPV technology
Building-integrated photovoltaics is an innovative and sustainable way of generating solar power. The technology has many benefits, including the ability to generate electricity as well as provide heat when needed.
Further benefits of BIPV are:
BIPV technology can generate more energy than conventional solar panels and requires less space.
Integrated photovoltaics are an environmentally friendly technology as they do not pollute the environment.
The use of BIPV will have a positive impact on your organisation - if you use it in your building or company.
Disadvantages of BIPV technology
There are some disadvantages to using BIPV technology to design buildings. The most common disadvantage is the cost of the system. The cost of the system depends on the amount of energy the system can produce and the amount of energy the building requires.
Some buildings require a large amount of energy, while some buildings require enough energy to function properly. In addition, the design of the building is influenced by the BIPV technology. a BIPV system sits on the roof and requires space. It also requires a lot of space to withstand strong winds.
Other major disadvantages include weather dependence, longer payback periods and lower efficiency.
Final words
In this blog post, we have tried to cover everything you need to know about PV building integration. It includes its advantages, disadvantages, and types of installation options.